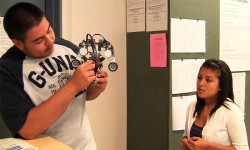 Exploring Computer Science has been generously funded by the National Science Foundation and under the auspices of the Broadening the Participation in Computing National Science Foundation grant, "Into the Loop: An University K-12 Alliance to Increase and Enhance the Computer Science Learning Opportunities for African-American, Latino/a, and Female Students in the Second Largest School District in the Country". Principal Investigator: Jane Margolis (UCLA); Co-Principal Investigators Joanna Goode (University of Oregon), Todd Ullah (LAUSD), Deborah Estrin (UCLA).
Our NSF Into the Loop grant has enabled us to create and revise the Exploring Computer Science curriculum and support its implementation and expansion. Into the Loop has also supported teacher training and the purchase of classroom resources particularly robots. The Teachers are Key grant has funded our coaching program and additional professional development for our teachers. In addition we have received support from Google.
We have recently received support from NSF for a project entitled "Mobilize."
Click here to learn more.