Professional Development
The Exploring Computer Science professional development program is based on three major pillars: computer science content/concepts, inquiry, and equity. These pillars are woven throughout all of the support provided to our teacher community.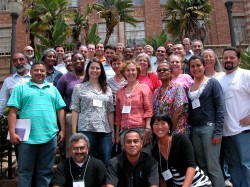 Our professional development model consists of four features:
Beginning ECS Teachers participate in a week-long summer Institute prior to implementation to introduce the instructional philosophy of the curriculum and content from the early units.
Quarterly Saturday workshops during academic year to focus on the remaining units and the three pillars
ECS Coaches who visit teachers' classrooms and provide individualized support.
Deepening of content and pedagogy in year 2 and beyond.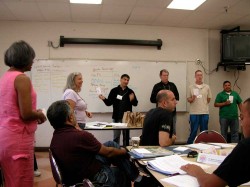 Learning involves many opportunities for collaboration and small group learning and presentations to model the types of experiences that we hope students will experiences as ECS is implemented at school sites. Computer science instruction is modeled through role playing, jig sawing activities, pair and small-group collaboration, structured tinkering, multiple solutions, utilizing manipulatives, and simulations. We firmly believe that ECS teachers and students are part of a community where all learners have a voice and can make valuable contributions to the learning of the whole group.
During the academic year, quarterly follow up Saturday sessions are held that address the content of the additional curricular units. This ongoing model of professional development provides teachers a regular chance to come together and reflect on their classroom teaching experiences, to build a learning community, while learning new curricular material.
With the content more mastered, in the second year summer institute teachers are more able to focus on student learning: how to improve it, assess it, and learn from it.  These issues are also the focus of the quarterly PDs for year two.
Coaching Program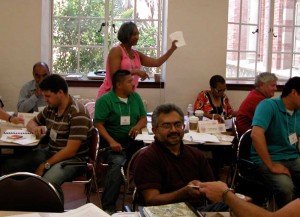 In addition to the formal professional development opportunities, ECS teachers in Los Angeles are supported by a team of computer science coaches and graduate student researchers, which regularly visits schools to provide support through collaboration and consulting. The ECS coaches and graduate students collaborate with teachers via lesson planning, reflecting on instruction, co-teaching, and providing opportunities for professional reflection such as visiting other cs classrooms, supporting informal inquiry groups and gatherings and moderating our Ning community site. In addition the ECS team works one on one or with small groups of students to support teachers in their instruction and students in their learning.